When it comes to choosing a platform for an online business, Shopify has always been at the top. Even if you don't have any experience, you can easily get started. Shopify's wide range of opportunities is also one of the reasons the platform is so attractive to affiliates. If you have a Shopify store, then you have made a good choice.
It is not difficult to create your E-Commerce store, but it is not easy to manage it well. For this you need to use some excellent tools to help develop your E-Commerce store, attract more customers to your store and increase your sales.
Therefore, we have compiled some of the must-have Shopify outlet store apps in 2022 to help you create and manage your online store and add new features.
To make it easy for you to follow through, we've put these apps into categories. They are as follows:
Best Shopify apps to build your store
Best Shopify apps to promote your store
Best shopify apps to manage your store
Best shopify apps to grow your store
Final words
Best Shopify apps to build your store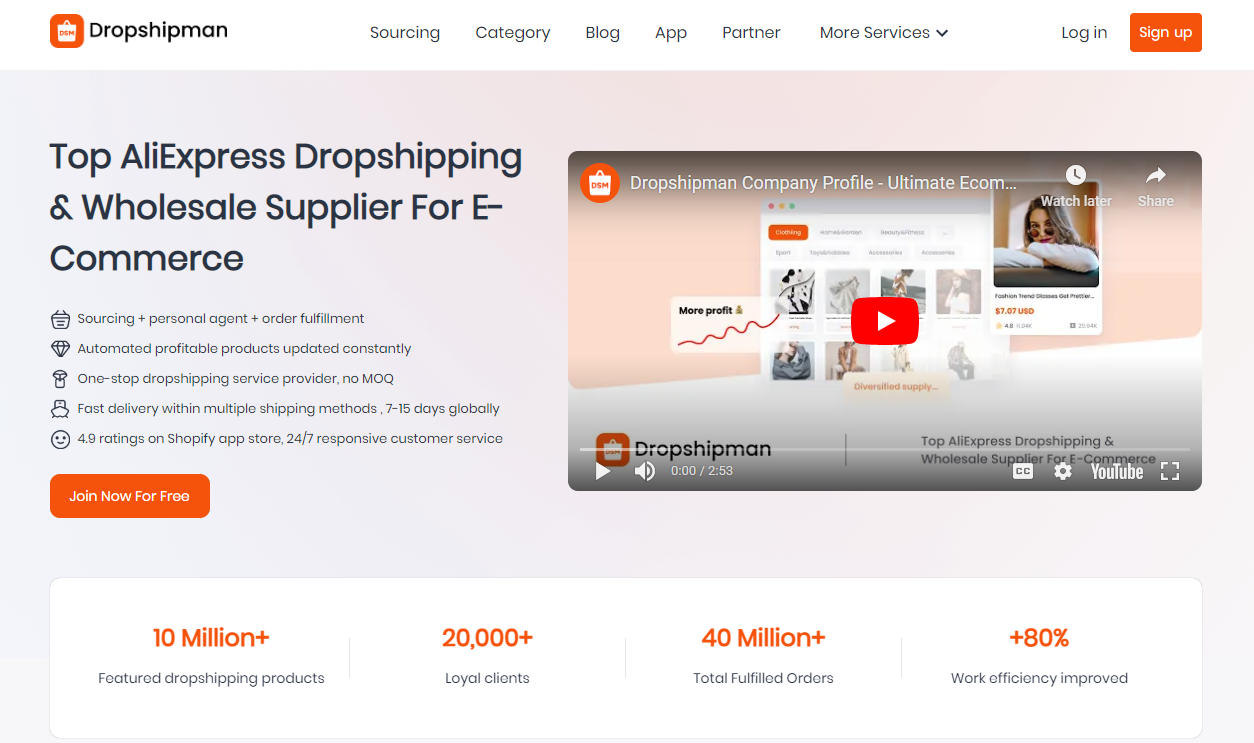 Dropshipman is one of the best dropshipping suppliers based in China. It has built the best free Shopify app for dropshipping. Dropshipman provides not only the best free AliExpress dropshipping tool for all users but also free product-sourcing services. With Dropshipman, you can import AliExpress products with one click, source products from Chinese wholesale suppliers at much lower prices, and get help from professional dropshipping agents.
Products offered by Dropshipman are at more competitive prices compared with the same products offered by AliExpress dropshipping suppliers. Over 40,000 online retailers have chosen Dropshipman to start or scale their businesses. What's more, by cooperating with over 30 global logistics carriers, Dropshipman can deliver orders to most areas worldwide within 7 ~ 15 days.
Bulk importing/ordering products from AliExpress with one click.
Syncing prices, inventory, tracking numbers, and order statuses automatically.
Sourcing products from China's biggest wholesale website to increase your profit margin.
Shipping products to your customers around the world within 7 ~ 15 days.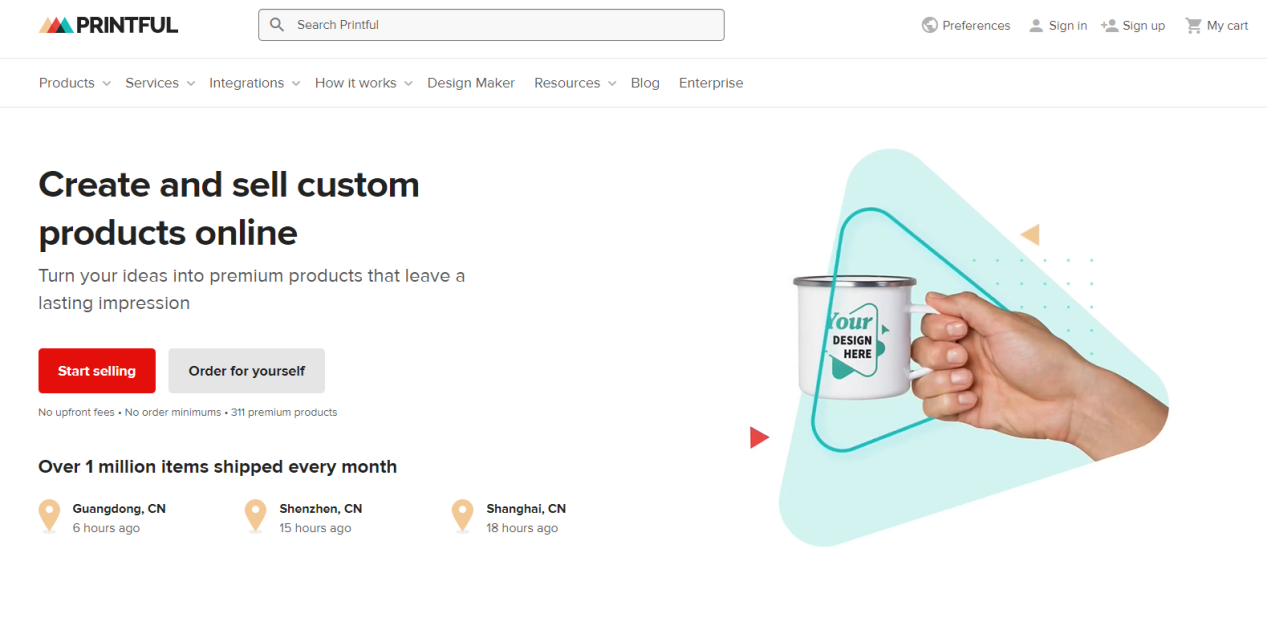 Have you ever thought about starting an online boutique? It may come as a surprise. To start an ecommerce business, you need two things: an internet connection and a good idea. You can handle product making yourself or find someone who will do this job for you. With print-on-demand, you sell products under your brand, while you leave the fulfillment process to the supplier company.
Printful is another dropshipping app that lets you run your business without having to worry about inventory. Specifically, it's a print-on-demand app that lets you sell shirts, mugs, leggings, etc. without having to produce, store, or ship them.
With the heavy lifting done for you, all that is left for you to do is promote your store.
After a little poking around, we discovered that most of Printful's customers are pleased with the app's ease of use.
Key features of Printful:
No upfront or hidden costs—you pay a fee only when customers order something

A wide selection of premium products you can print your designs on

User-friendly tools for mockups, visualizations, and product packaging designs

Warehousing, shipping, and fulfillment taken care of by Printful

Connects directly with your Shopify store with no additional apps needed

It integrates with eBay, Etsy, or Amazon
Price:
Free to install: only pay when an order comes in.
Best Shopify apps to promote your store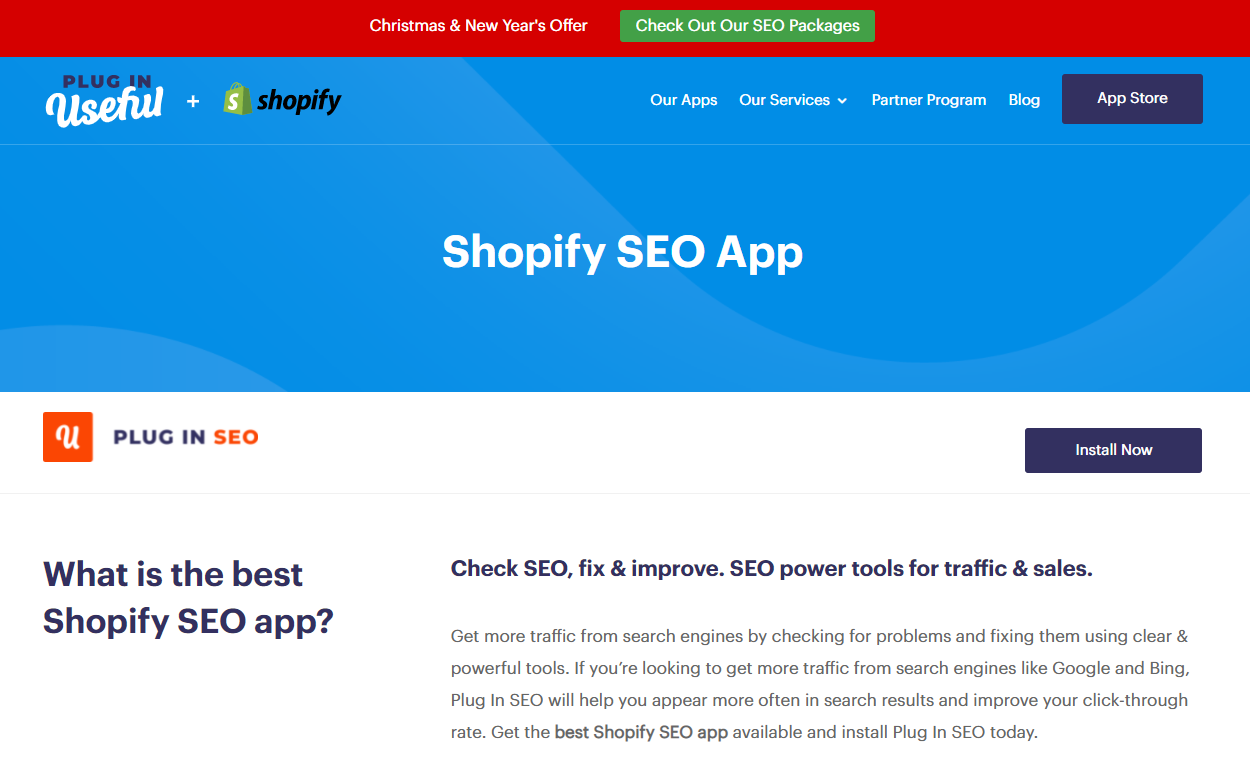 If you're looking to get more traffic from search engines like Google and Bing, Plug In SEO will help you appear more often in search results and improve your click-through rate. Get more traffic from search engines by checking for problems and fixing them using clear & powerful tools.
With over 30,000 active installations, Plug in SEO is one app you can always turn to when looking to rank your pages high on Google. It comes packed with lots of features that will help improve the visibility of your product pages on search engines.
Plug in SEO can help you conduct keyword research, fix broken links, edit SEO data in bulk, optimize your blog posts, and lots more.
Key features of Plug In SEO:
Sends email alerts whenever there is an SEO problem

Gives free instructions, including code snippets for fixing the SEO

Checks and improves SEO to gain organic traffic
Price:
Plug in SEO comes with a free plan. But if you would like to enjoy 24/7 support and automatic SEO improvement, you will need to upgrade to the paid plan. It costs $20/month.
4:SEOAnt – SEO & Image Optimizer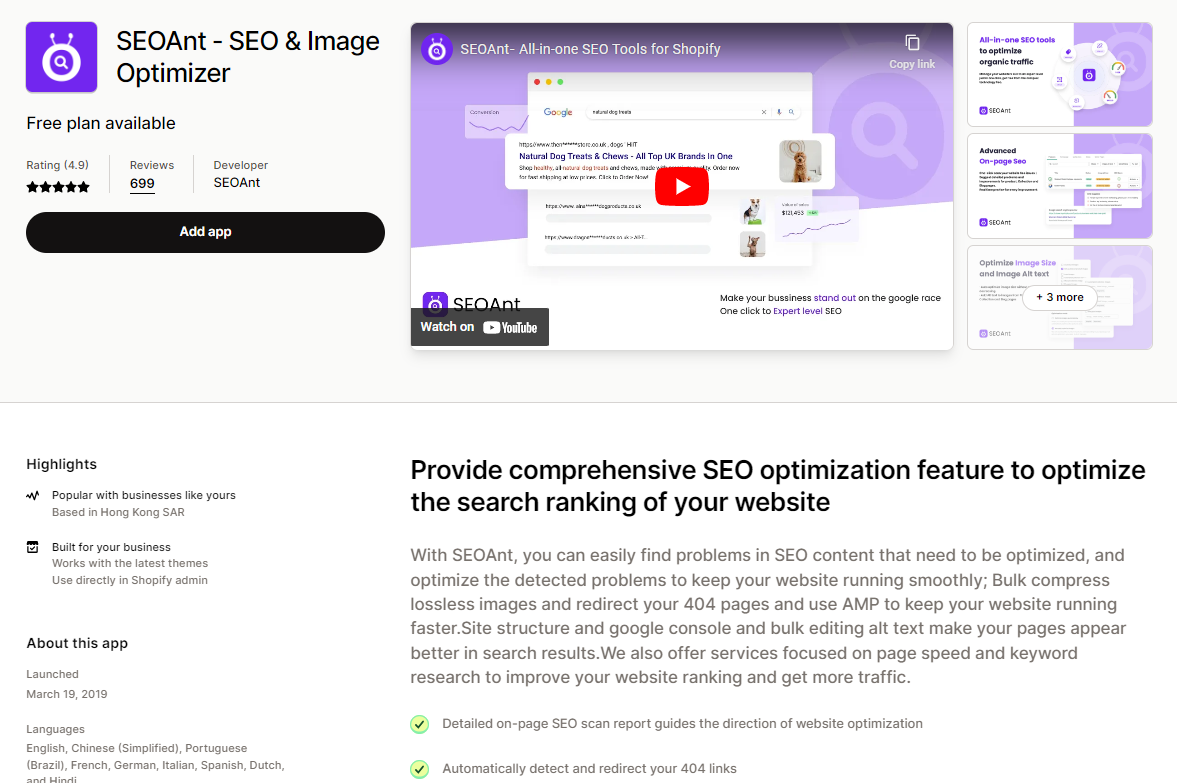 SEO Master & Image Optimizer runs a completely free SEO check for your website. The on-page SEO function can help Google better understand the entire content of your page. Improving on-page search engine optimization will ensure higher rankings on Google and more organic traffic, ensuring that your website is more visible on search engines ; To help you create more Google SEO-friendly products and blog pages. Bring more organic traffic to your store and boost sales.​
Provide you with the ability to edit Alt Text, Title Tag and Meta Description within one page. You can edit image alternative text and meta elements in batches with just a few clicks. In addition, it supports tracking and repairing 404 error pages/broken links on your website.
SEO Master & Image Optimizer can also perform advanced SEO checks for your Shopify website, provide you with a clear SEO score, and form a guide to show you which part of your website should be optimized. No longer confused about how to optimize your website. The app has a score of 5.0 on Shopify and is trusted by more than 10,000 merchants.
Key features of SEO Master & Image Optimizer:
Detailed SEO Report

SEO Meta Elements Automated Templating

Free to install, Free Plan Available

Code will be deleted after uninstall, but your optimization will be kept
Price:
Free
Best shopify apps to manage your store
6:HelpCenter | FAQ Chat Helpdesk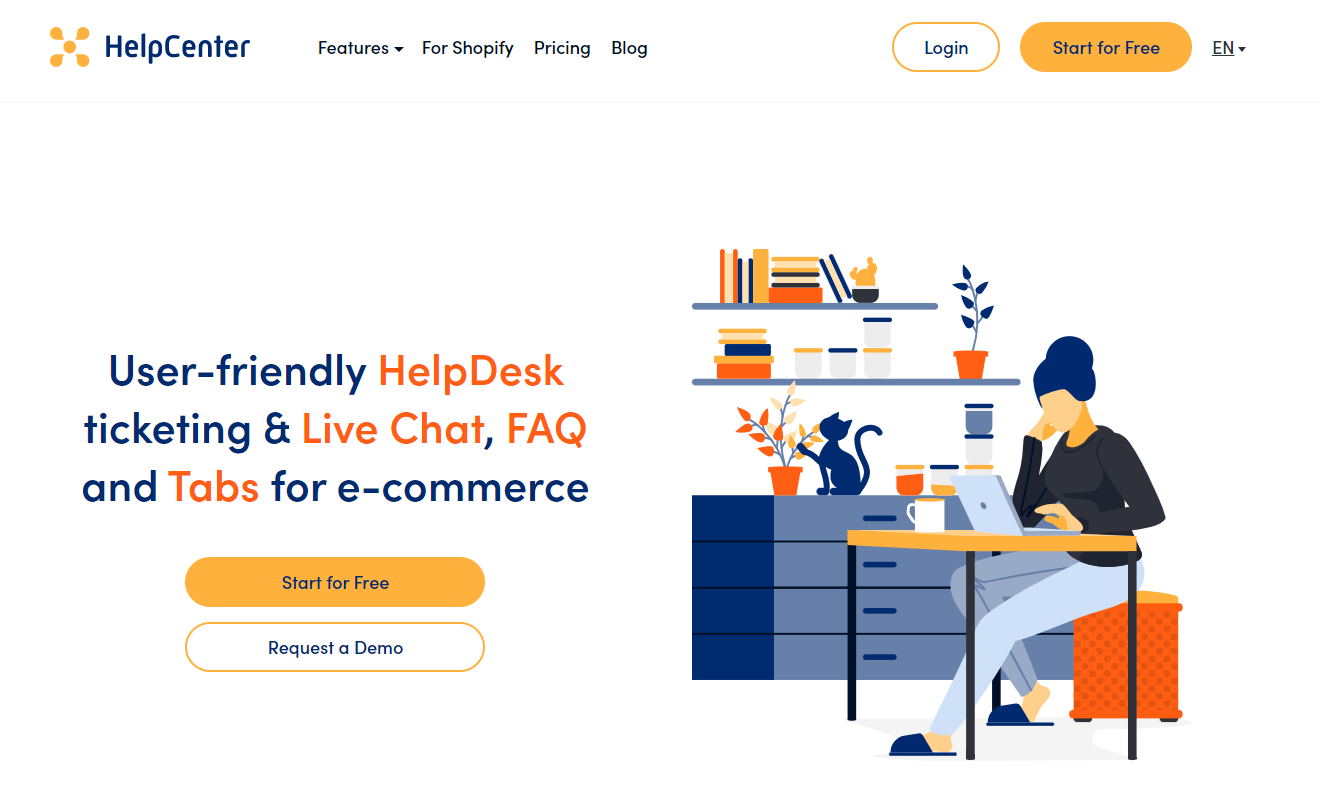 Your customers will always have questions. Some of these questions will be recurring. To save yourself some precious time, address the deepest customer concerns in an FAQ page on your website.
HelpCenter is a user-friendly customer service App for e-commerce, aimed at making interactions with customers more effective. By combining four highly effective solutions – FAQ builder, HelpDesk ticketing, Live Chat & Tabs – HelpCenter is a true lifesaver for every e-shop that values customer experience and its own time.
You'll be able to build an informative, easy to navigate FAQ page. You'll get to manage all inquiries from multiple channels: email, chat or FB Messenger in a single HelpDesk. Manage your Product descriptions, shipping and other info using custom tabs. And also you'll be able to use one account for several e-shops or communication channels.
Key features of HelpCenter:
Intuitive FAQ builder

HelpDesk ticketing system

Choose different tabs themes and customise tabs by changing colours and other design elements

Live Chat and Chatbot, Let your customers contact your business in real-time and after office hours
Price:
There is a free version, in addition, different functions have different prices, FAQ $4.99/month or $47.88 once per year, TABS $4.99/month or $47.88 once per year, HELPDESK $19.99/month or $119.88 once per year. Professional $14.92/month or billed annually at $179.
7:Language Translate ‑ETranslate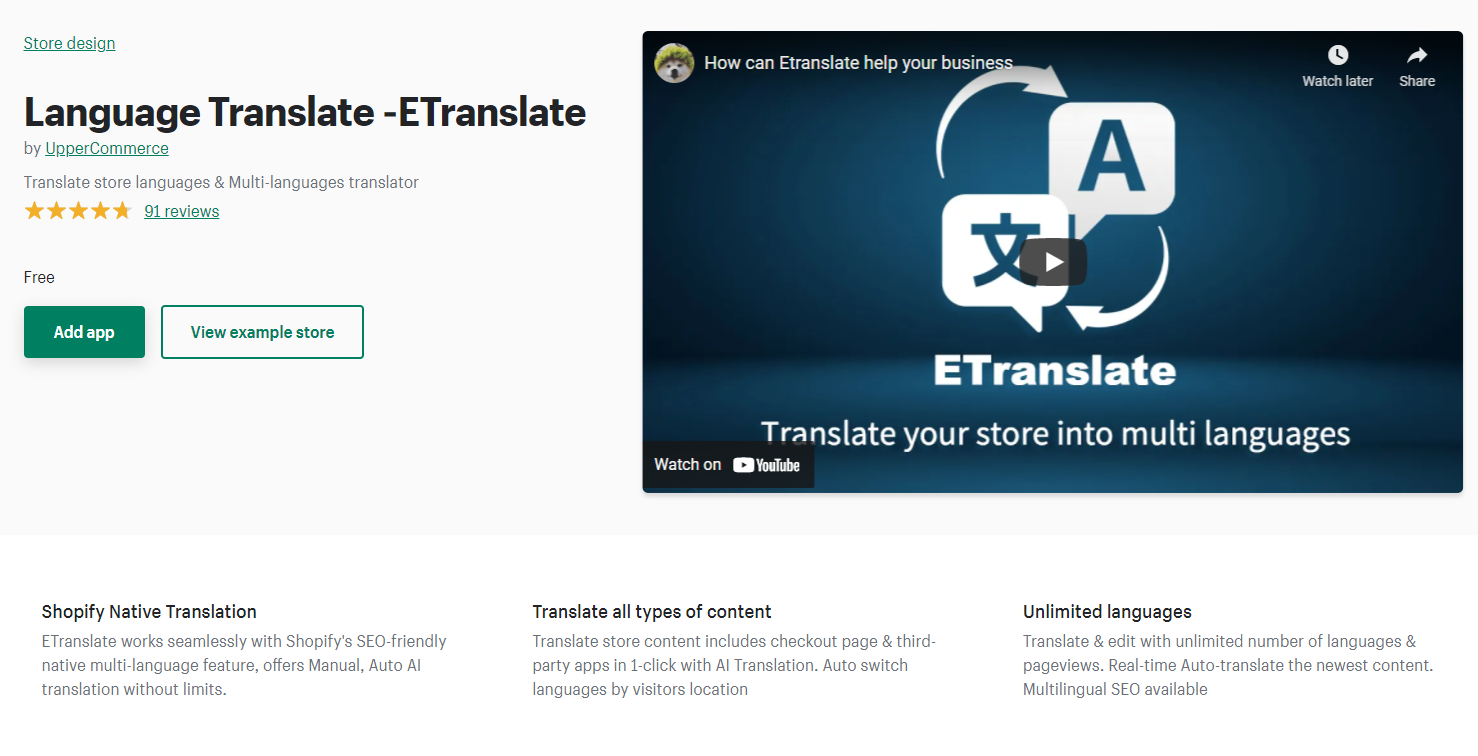 Language Translate easily set up your multilingual store in minutes. No coding skills are required. Increase traffic through multilingual search engine optimization. Help your store to be indexed in translation languages, increase conversion rates by translating your store into multiple languages, and save 30% on the purchase of a multilingual store.
Allows to automatically detect the visitor's browser language and display its matching language on the first visit. With the support of Language Translate, your store can be easily translated into multiple languages, solving language problems for you and providing global reach Market opportunities to expand the number of potential users, thereby increasing the conversion rate of your store.
Key features of Language Translate:
Offers Manual, Auto AI translation without limits

Translate store content includes checkout page & third-party apps

Auto switch languages by visitors location

Real-time Auto-translate the newest content

Multilingual SEO available
Price: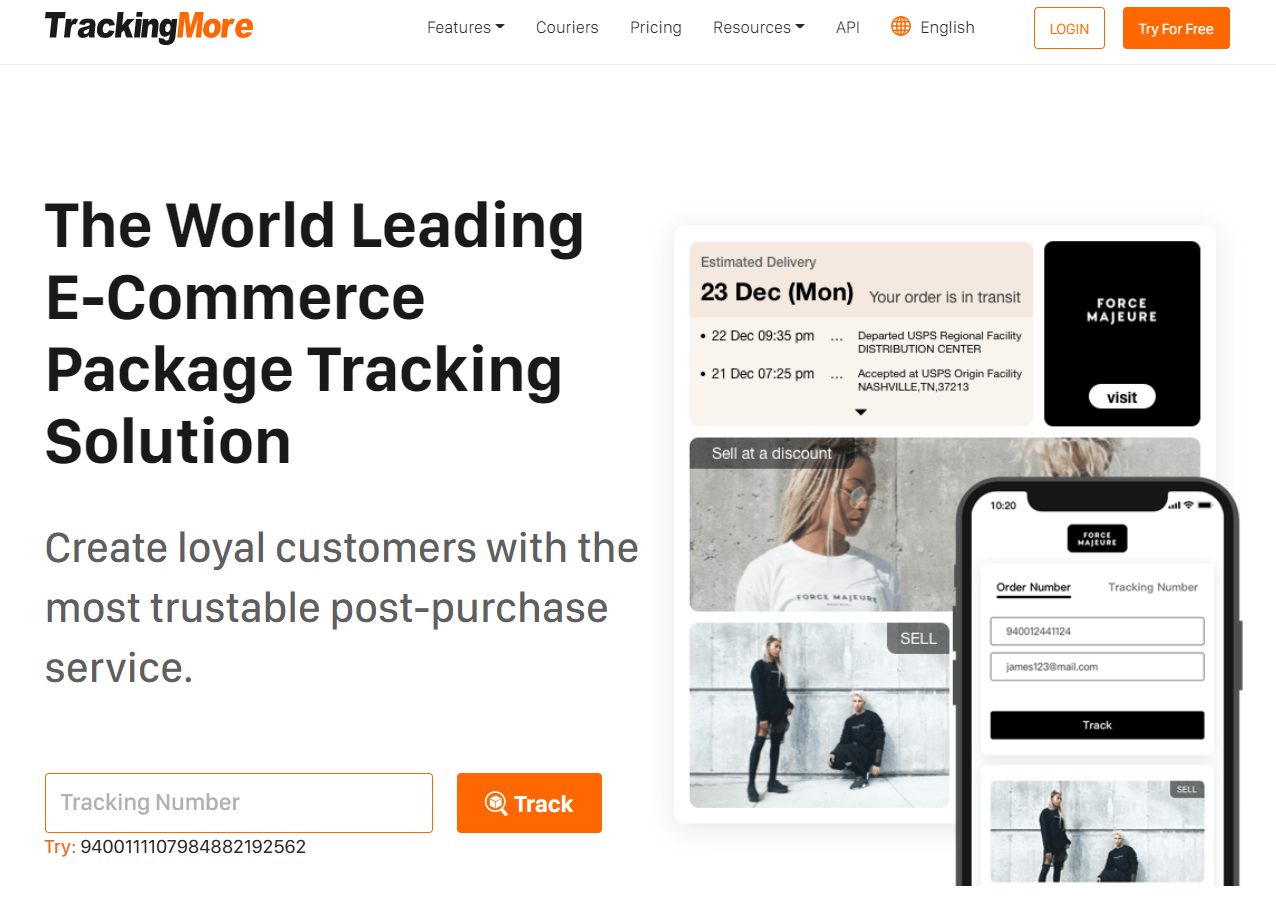 It's important for you to build loyalty with your customers. One of the ways you can go about this is by providing them with a means to easily track their orders. TracktorMore is one Shopify app you can count on to make this happen. With this app, both you and your customers can closely monitor parcels in transit – in real-time.
1000+ couriers worldwide supported, Trackingmore is the best one-stop order tracker to settle your tracking problems once and for all. More than that, Trackingmore aims to help your store improve shopping experience, increase efficiency and boost sales. Customized notification reduces costs in customer service, impressive tracking page brings customers back to your store and creates sales opportunities…Permanent free plan provided, don't hesitate to give it a try!
Key features of TrackingMore:
1000+ couriers supported

Impressive, Branded Tracking Page

Customizable, Auto Notifications

SEO Ranking & Site Traffic

Monitor All Orders in One GO

Permanent Free Monthly Plan
Price:
It has three price plans, Free, $9 / month and $39 / month. In addition, a customized version is also available, and you can contact customer service.
Using TrackingMore is simple and straightforward. Here's how it works:
Connect Your Sales Channels
TrackingMore supports a wide range of platforms, including Shopify, Magento, WooCommerce, eBay, Amazon, and many more. Simply connect your account, and it will import all your orders.
Track Your Orders
Once your orders are imported, you can start tracking them. TrackingMore supports over 1000 carriers worldwide, so no matter where your orders are shipping from or to, you can track them all in one place.
Customize Your Tracking Page
With TrackingMore, you can also create a customized tracking page that reflects your brand and provides a seamless customer experience. Add your logo, custom messaging, and other design elements to create a tracking page that matches your brand's look and feel.
Engage Your Customers
Our software also allows you to engage your customers with automated tracking notifications and delivery updates. Keep your customers informed every step of the way, and enhance their post-purchase experience with our powerful engagement tools.
You may also like:
How to use social meadia tools to improve your sales
How to improve post-purchase experience with a tracking software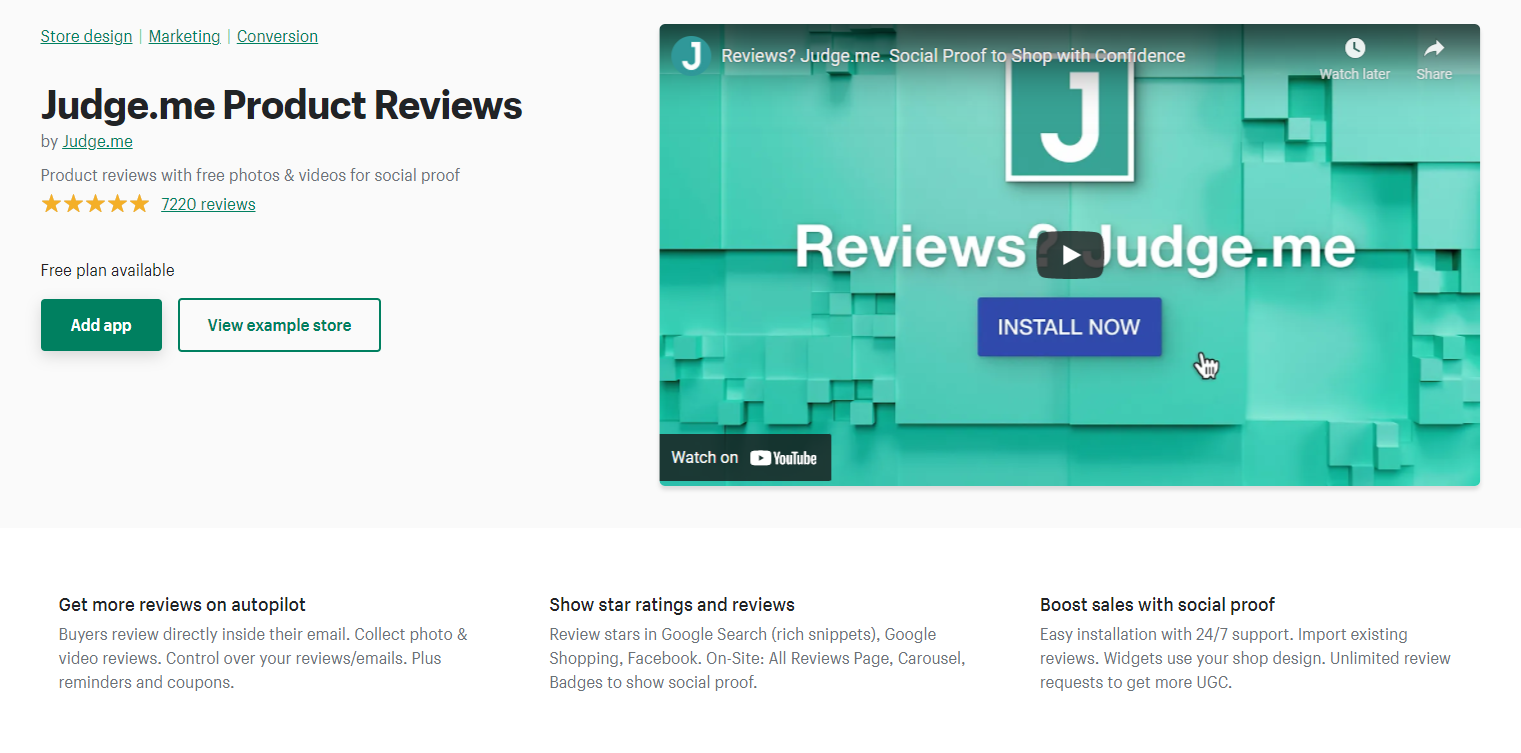 Judge.me helps you collect and display star ratings and reviews about your products and Shopify store. Social proof from reviews and other user-generated content like photos and videos increases your conversion rate, organic traffic, and buyer engagement. Photo and video reviews are free!
It's a full-featured review app that is truly affordable. With unlimited orders and request emails included on all plans, you never have to worry about limits. 24/7 customer support team will help with setup and basic customisations (widget design and position) so widgets fit seamlessly into your store.
Migrating from another app? Judge.me helps you easily import your existing reviews from >20 other review apps.
Key features of Judge.me:
Buyers review directly inside their email. Collect photo & video reviews

Control over your reviews/emails. Plus reminders and coupons

Review stars in Google Search (rich snippets), Google Shopping, Facebook

Easy installation with 24/7 support

Widgets use your shop design. Unlimited review requests to get more UGC
Price:
Free plan available, from $15/month
Best shopify apps to grow your store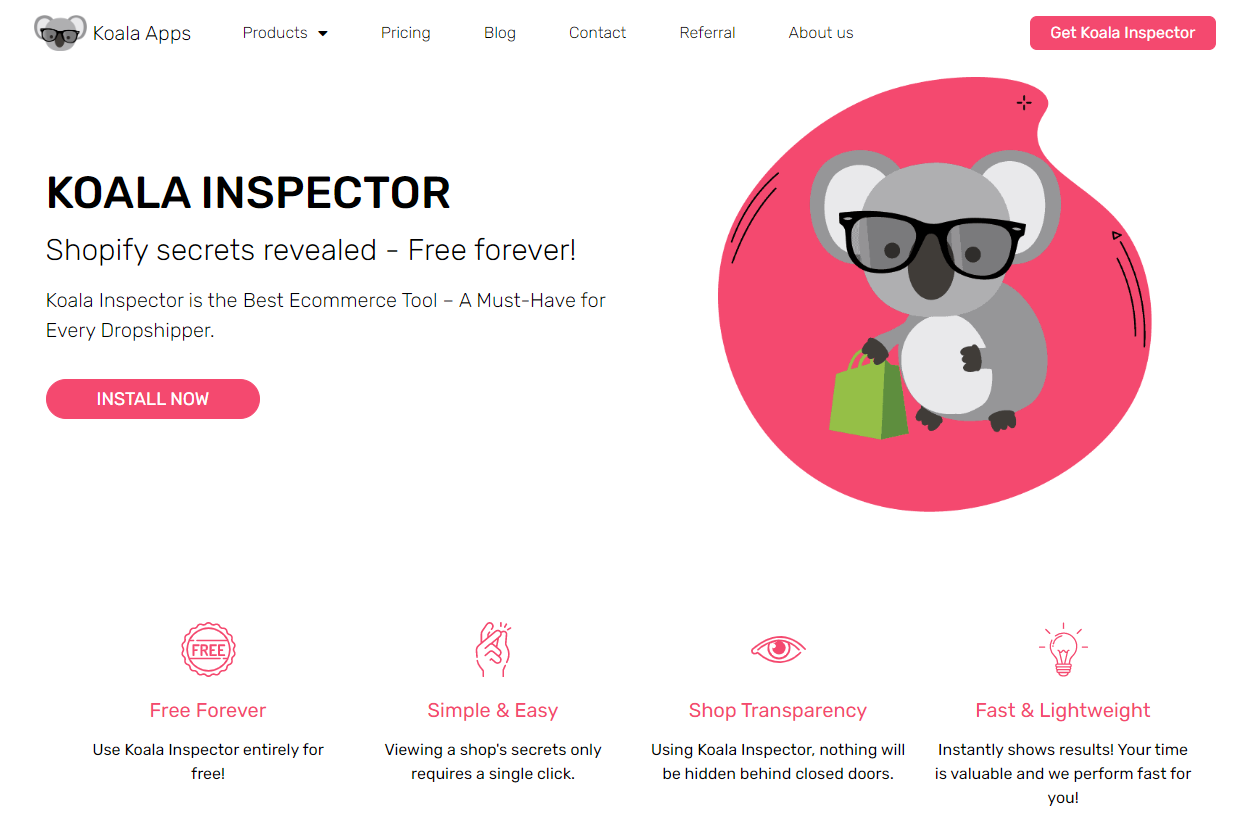 Want to gain a competitive edge over your eCommerce and Shopify dropshipping business competitors? Ready to take your Shopify or AliExpress store to the next level, but not sure how you should get started?
Koala Inspector is the missing ingredient to your eCommerce store's success! Whether you're venturing into dropshipping for the first time or selling your product on popular eCommerce platforms like Shopify and AliExpress, you can start benefiting from this powerful tool that will reveal all eCommerce secrets. That way, you'll have greater visibility over what your competitor stores are doing to win customers over and apply the same strategies to grow your very own online business.
With just one click, you can easily reveal apps that other stores use, understand their pricing strategy and find out what their best-selling products are. These key metrics can instantly elevate your business plans as you will have insightful data to act upon, informing your next steps to win in the eCommerce game.
Key features of Koala Inspector:-
Save countless hours on product search and testing by tracking competitors. Get full analysis on any Shopify store and reveal their best-selling items and niches.
Find new or alternative suppliers for the products you want to sell. If the exact product is not found, you will be provided with the best product match on the web.
Increase sales through ad optimization. Find successful paid ad campaigns run by any Shopify store to see what's working for your competitors. Learn from them and launch your own ads.
Boost conversion rates by using Koala Inspector's Shop Traffic data tool. View any Shopify store's traffic analytics and improve your targeting.
Automate product importing: If you find a product using Koala Inspector, take advantage of our integration. Enjoy the built-in shortcut to import products straight to your store with just a click of a button.
Pricing: There is a free version, but if you're looking for more feautures, there's a professional plan at the price of $7.99 a month and an ultimate for $19.99. Both paid plans include a 3-day free trial.
Did you know that a happy customer will very likely refer other people to your store, without you asking? For this reason, running a referral program will help you boost sales, without having to spend much on marketing.
What does this app do? ReferralCandy helps you set up a referral program in just a few minutes. This app automates almost everything, including reward payouts delivery, referral reminders, and post-purchase notifications.
ReferralCandy is everything you need to get your own referral program up and running. Instead of diversifying your sales channels, you can give better incentives to your existing customers and make them bring their friends.
It is among the very best Shopify marketing apps. With ReferralCandy you can set up different types of rewards and make the referral link generation process fast and easy, you can automate your referral programs in a breeze.
Key features of ReferralCandy:
Emails and post-purchase pop ups to enroll existing customers

Branded customer experience with custom landing pages

Multi-language versions of your referral marketing campaigns

Automatic detection of suspicious activities with (Fraud Center)

Integrates with other Shopify marketing apps and Google Analytics
Price:
You can get started with Referral Candy for free. But the free trial lasts only 30 days. After that, you will have to upgrade to their paid plan. It starts at $49/month.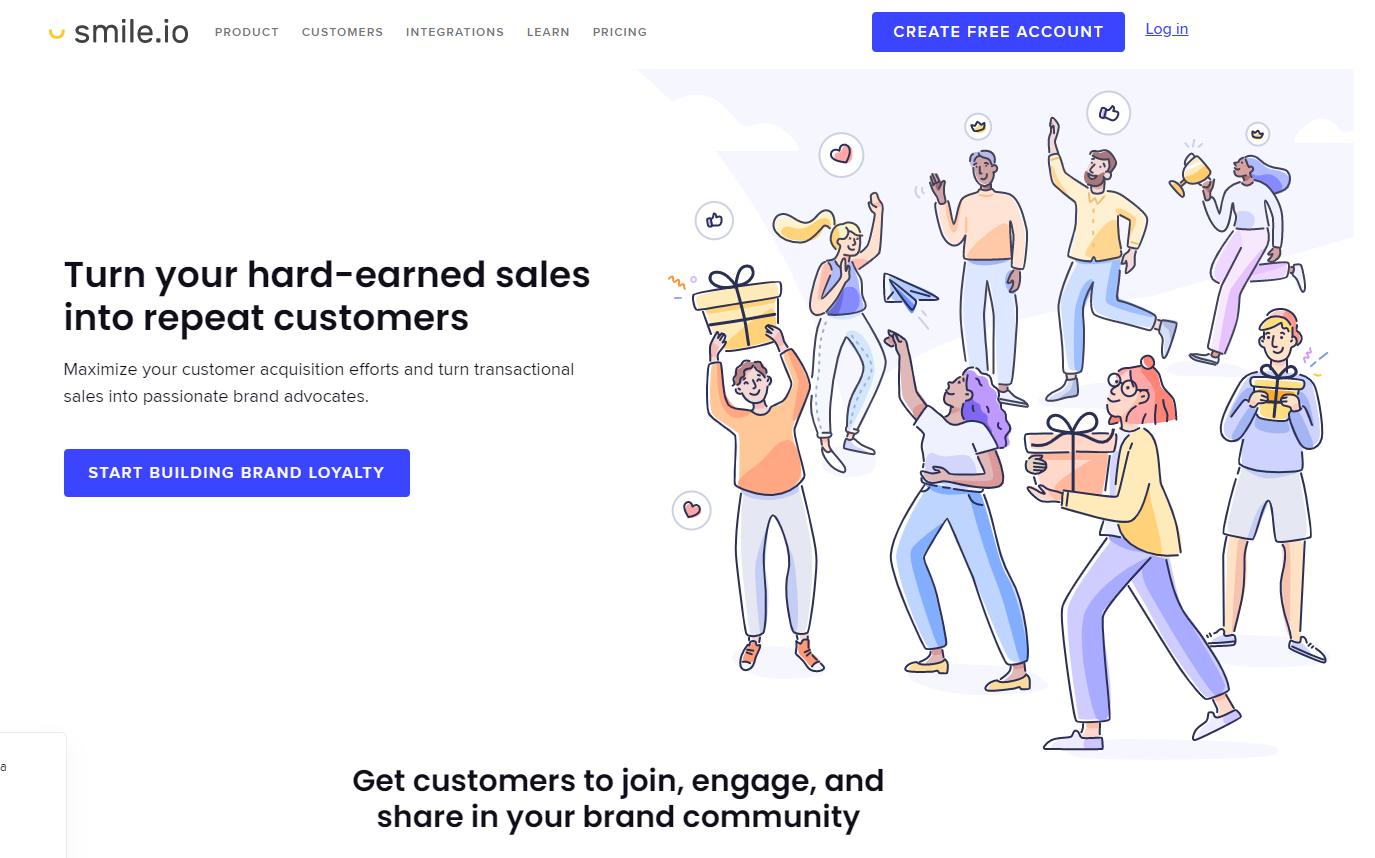 Smile.io will help you build a loyalty program for your customers. With this Shopify app, you'll be able to use pop ups and other tools to encourage your customers to grab offers and earn points. According to Built With reports on popular apps Shopify-based websites use, Smile is one of the most-installed software when it comes to the top 1 million pages on the Internet.
Use it online or in-store with Shopify's POS. Your customers will have an effortless and delightful experience with automated email notifications, reward shopping and social behavior, customizable display, and multiple program types.
Thousands of stores already use Smile to deliver simple yet robust rewards programs to their buyers. Use systems based on points, referrals, or VIP to generate more repeat purchases for your online store. This is Shopify's most popular rewards app to date.
50,000+ Shopify brands are succeeding with Smile's easy-to-build loyalty platfor. Incentives for loyal customers are an effective strategy to increase conversions, average order value, and customer retention. If you want to have more repeat sales, you should take Smile into consideration.
Key features of Smile.io:
Setting up custom rewards for actions such as placing orders

Ready-made abandoned car flows with point reminders

Customers can redeem their reward points at the checkout

Customizable reward panels and buttons that match your Shopify store

One-click integrations with Loox, Mailchimp, Judge.me, and many more

Extra referral program and social proof features
Price:
You can get started with Smile.io for free. The problem is, Smile's branding will be placed on your store.If you would like to remove the branding from your site you will need to upgrade to any of their paid plans. There are three of them: Starter, Growth, and Pro. They go for $49, $199, and $599 per month, respectively.

Some time ago, we conducted our own survey and asked respondents what makes websites trustworthy or not. The lack of multiple payment options and recognizable trust seals were mentioned time and time again.
Ultimate Trust Badges developed by Conversion Bear make your store less suspicious and more user-friendly. Trusted by over 30,000 businesses in 90 countries. 300 free badges that match your store's design, Customize your message, colors, alignment, size and more.
Enhance your business with trust badges, ensuring consumers that your store is secure and reliable. In our opinion, it is one of the best free Shopify apps, and it does exactly what it is meant to do.
Key features of Ultimate Trust Badges:
Hundreds of badges based on banks, credit card providers and currencies

Intuitive design settings that change the size and layout of your trust badges

Mobile-friendly and easy to place anywhere on your pages without coding
Price:
This app is completely free. It is one of those little cool shopify apps that are supposed to promote the companies that developed them.
14:Privy – Pop Ups, Email, & SMS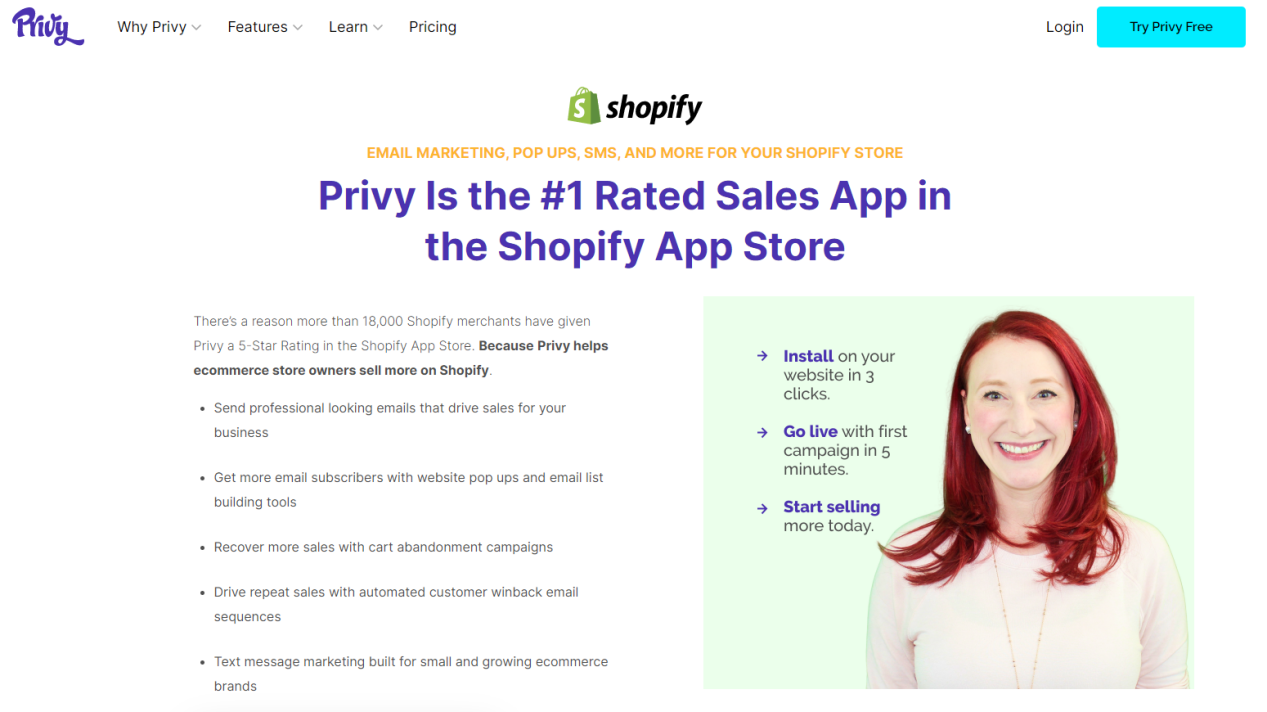 A successful conversion means that you were able to deliver the right message at the right time to the right visitor. If you want to step up your conversion rate optimization game, this app is for you.
Privy is one of the best Shopify apps for marketing. It offers a set of cool tools that can significantly improve your conversion rates. You can add spin-to-win wheels, banners, and exit-intent signup pop ups to collect contact information.
Privy allows you to build beautiful popups with easy-to-use targeting and triggers that get people to join your email list. Follow your conversions and drive more sales with email newsletters, automated emails, A/B tests, and other great features in one place.
And there's another useful tool—with a simple but powerful campaign designer you can choose from hundreds of high-converting templates or fully customize the design to match your brand.
Best used for email & SMS marketing automation. Pop-ups, offers, and prompts to convert customers.
Key features of Privy:
Customizable pop ups, banners, and wheels

Good email marketing templates for different situations

A/B tests and conversion optimization tools

Abandoned cart email workflows for ecommerce businesses

Advanced customer segmentation options

Checkout pop ups for cross-selling and upselling
Price:
Free. Upgraded plans from $20/month.Privy offers a suite of marketing tools for SMS and email marketing and conversion-focused tools like pop-ups and wheels.
Final words
There is no single best Shopify app to increase sales, because the process is too complex. You should deliver A-class customer support, run great marketing campaigns, and make your store engaging and attractive.
So there you have it – 13 handpicked apps that will help boost your sales on Shopify. All you have to do now is install them to your store, and watch the magic happen.
Of course, there are tons of other alternative apps you can try out. But before you install any app, always check the reviews left by other store owners. Good luck with your path!